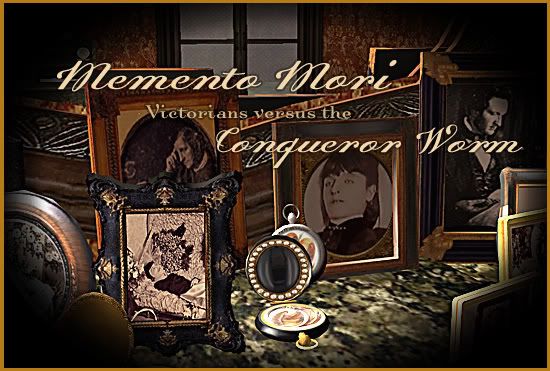 When I was a small child, my family used to take weekend trips to a local farm that was in the process of becoming a museum. My father would go down to the river to fish, and my mother, brother and I would bother the animals and explore the Victorian-era farmhouse. I mention the "becoming" part of it's museumhood, because it was still a relatively uncontrolled environment – although the lower parts of the house were criss-crossed with velvet ropes and marked with plaques, the attic was still a wild and uncurated territory. It was jumbled full of boxes and trunks some of which were opened and semi-arranged, and all of which a person could simply rummage through if they felt so inclined. Eventually, the museum people realized what a bad idea this was and added velvet ropes and plaques, but before this happened, I was delighted, confused, and a little disgusted by greasy wreaths of braided hair behind glass domes, quantities of jet-and-hair jewelry, and celluloid boxes full of combed-out hair with a peculiar dusty-human smell. No one seemed to know what all this hair was for, and I was more or less an adult before I stumbled upon useful information about the Victorian Death Cult. I should be embarrassed to say that I wish I'd been the sort of kid to cram her pockets full of other people's stuff because now I'd LOVE to have a bunch of hair jewelry and I can't possibly afford it.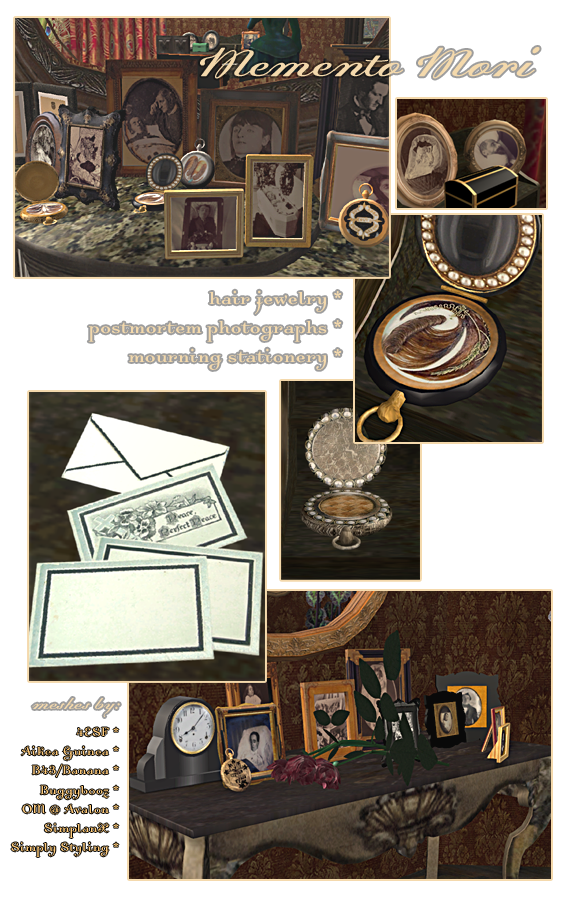 FYI, The Conqueror Worm is the name of an almost embarrassingly melodramatic piece of Poe-try.
There are 2 or 3 recolors each of OM's 3-picture mesh, Birgit's 3-picture mesh, four different Jope picture meshes, a hinged 2-photo frame from SimplanX, and a 4ESF mesh with 2 pictures and a small box. There are 3 or 4 recolors each of buggybooz' pocketwatch meshes. Using Aikea Guinea's paper meshes, there are black-edged envelopes, notecards and a memorial card, as well as a half-dozen sets of scattered Victorian-era stamps.
RECOLORS here: http://www.mediafire.com/?nmiy4vhq2ye or
here: http://sharebee.com/b5789c5a
MESHES NEEDED:
4ESF antique dining miniatures MESH: http://www.4eversimfantasy.net/themeantiquedining1.htm
aikea guinea paper+pencils MESHES: http://www.clubcrimsyn.com/ – look under TSR Sets/Objects
buggybooz pocketwatch MESHES: http://www.modthesims2.com/showthread.php?t=230227

MESHES INCLUDED:
OM's frame trio from the Ladies' Clutter set, Jope's meshes from the Simply Styling Bed 05 and Living 05 sets, Birgit/B43's frame trio from the no-longer-available Banana Republic Revival Wicker & Wood set, and the SimplanX Murray photoframe
WCIF for this set is here.