As requested by Izzystar @ GoS, here are a couple of decks of tarot cards.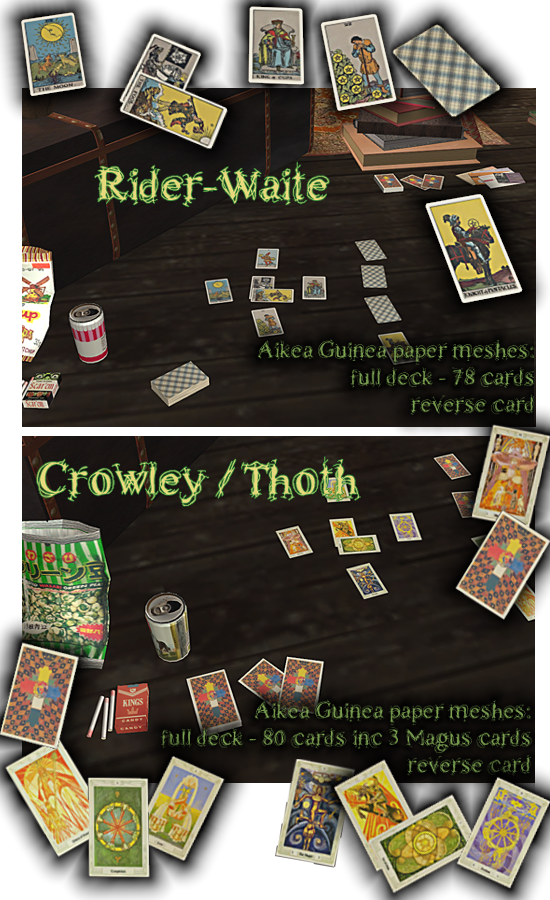 Thoth deck has a total of 81 cards: full deck+2 extra Magus cards (which is what my deck has), as well a a reverse card. Rider-Waite has the usual single Magician card plus a reverse card for a total of 79. Additionally, there are stacked decks (reverse card only) on both a RetailSims mesh and one by Mininessie @ MTS2.
RECOLORS: http://sharebee.com/5be2214b
or here: http://www.mediafire.com/?rmd9bcq5glj
I hope at least one of these links works for everyone who wants the file. If not, please let me know which service(s) DO work for you.
MESHES are NOT included.
Aikea Guinea's paper meshes: Club Crimsyn, then go to TSR Sets/Objects.
RetailSims playing card box: http://www.retailsims.com/PreOFBShops/POFB_Misc/POFB_Misc.htm
Mininessie card deck: http://www.modthesims2.com/showthread.php?t=197932
Small WCIF list is here.