I quit smoking a bit over 12 years ago. I really, really LOVED smoking.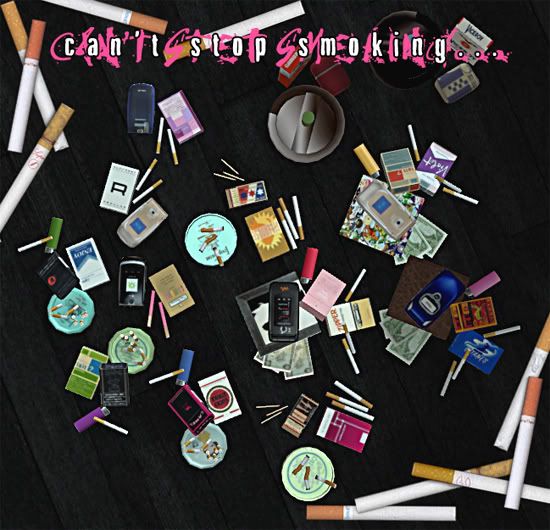 I smoked a lot. Most of the time, breathing=smoking, and I breathed in about 100 cigarettes a day for many years. The whys and hows of quitting are a long story and not really one for a Sims download site, but I will say that I miss smoking like I'd miss one of my limbs, and I still have dreams where I smoke with varying degrees of secrecy/defiance, and wake up both guilty and wanting a cigarette.
There are two recolors of an Art Deco style round ashtray and cigarettes, with mesh by boblishman, two recolors of a totally neurotic-seeming and fiddly dirty ashtray, matches and cigarette packs by stylist sims, and three recolors each of cigarettes with phones and/or ashtrays and/or wallets by crayonsama, which I 1)adore, and 2) found on a Chinese forum. All of them are either vintage or current US or Japanese cigarette brands/packs except for the stylist sims ones, which I made up.* All meshes are included. The boblishman mesh is free @ MTS2 and normally I'd make you go get it yourself. However, it's only available as part of a 4.8MB pack of assorted Retroville set deco items, and I thought it possible that some of you might not want to download the whole thing. If you've never looked at the Retroville pack, though, you might want to browse the thread; there are some interesting meshes included that don't turn up elsewhere. The Retroville thread is here
boblishman: http://www.divshare.com/download/4693674-1b6
or http://www.mediafire.com/?x09svzwaxvx
or http://www.megaupload.com/?d=BC4TSTXT
crayonsama: http://www.divshare.com/download/4693672-e98
or http://www.mediafire.com/?bolyhy0wzlx
or http://www.megaupload.com/?d=TAXOWNZB

stylist sims: http://www.divshare.com/download/4693675-32b
or http://www.mediafire.com/?dpty9jzrdji
or http://www.megaupload.com/?d=I3HORAXX
My, but I'm chatty today.
As for the soundtrack…back in the 1980s when people made mix tapes, I went through a phase where I included this song on pretty much every compilation I made.** It had a companion piece that I can't find a digital recording of, unfortunately – a vitriolic speech to the Willy Lomans of the world from a 50s sales motivation LP that warned against putting the desire for a cigarette ahead of the desire for a sale. Oh, well. I think that sort of audio "joke" was probably more of an 80s thing anyway.***
Click to play Can't Stop Smoking by Alien Sex Fiend
[audio:AlienSexFiend_CantStopSmoking.mp3]
Supposedly, you can somehow download this from the player…but I can't figure it out – and not all WordPress widgets work like they're supposed to anyway, so if you'd like to have the song for your very own, you can get it (along with a bonus ASF song) here: songs! (The files are huge – 9 MB each – I think because I had to convert them from wmas.)
If you are desperate to know where I *think* I got the black wood floor from, there is a very lame WCIF entry here.
* and, oddly enough, my (former) brand of choice is not represented because I couldn't find a good picture of what must surely still be a major brand in Canada. Huh. Probably just as well, since doing these recolors got me feeling all nostalgic about having ashes everywhere and coughing a lot.
** another recording that achieved obsessive repetition status was the Shaun Cassidy cover of David Bowie's Rebel, Rebel, used to such an extent that friends finally asked me to please stop including it.
*** because everyone realized that you were not only clever, but skilled, i.e., you'd managed to drop the needle/push the recording buttons with such perfect timing that the seque between between the ironic or ridiculous snippet and the actual song following would be perfect and seamless. This could also be interpreted, usually correctly, as a labor of love of one form or another.