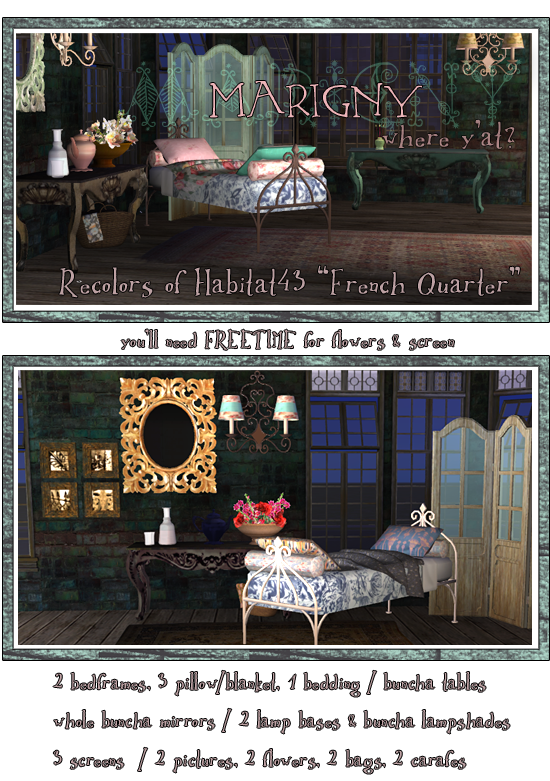 By all logic, New Orleans should be my least favorite place on earth. It's disgustingly hot and humid, it's filthy, I hate seafood of all kinds, my tolerance for zydeco music is extremely limited, and the degrading squalor passing for "fun" that is Bourbon Street is depressing in every possible facet. Really, I should have suffered (and made the Mr. suffer) during every second of that first visit. Against all odds, however, New Orleans felt like home the minute I arrived, and became dearer and dearer to me on each subsequent trip. We messed up our travel plans and didn't get to take our trip in 2005; had we been better organized, we would have been there during Katrina. Although I'm very grateful that we missed being part of a disaster, I still feel pointlessly guilty for not being there to offer my useless "support."
The Fauborg Marigny is the neighborhood to the immediate east of the French Quarter and is composed of shotgun shacks, light industry, and a steady increase in hipster residents and all the coffeeshops, bars and restaurants that go along with them. It's probably my favorite neighborhood in the city, and it is amazing to me that so many people travel in droves to New Orleans and never go beyond the puke-filled gutters of Bourbon Street.
As for Marigny: If you speak any French, place names in New Orleans will give you a lot of trouble: under no circumstances should you pronounce any French word on a street sign or map with anything resembling a French accent. (This is not the case with French words on menus, which must be spoken through one's nose with as much Frainchness as one can muster). Actually, Fauborg Marigny in localese is semi-French, but since a true NOLA accent sounds a lot like Brooklyn, Marigny comes out a lot like "marinate" without the final T.
get the French Quarter meshes at Habitat43 or the booty
get my recolors here: http://www.mediafire.com/?djwgnjxtgy5 or http://sharebee.com/99f8bfa0
WCIF for this set is here.